Mimizu Wada(Japanese: 和田ミミズ, Worm Wada) is a recurring character in Taiko no Tatsujin series.
Biography
Mimizu is an Earthworm living in the Wada household, taking residence inside a clay pot that holds a potted plant. She is a pet of and a good friend to Don-chan. Mimizu adores cute flowers, and is known to give them to those who she likes.
In the Games
Mimizu appears as a background character in various songs, and makes her debut in this title.
Mimizu returns in this title as a playable character. Mimizu is unlocked automatically after playing nine minigames in Party Game mode. Mimizu holds various plants while performing, and comes with the Faster Soul Gauge Lv 1 and Balloon Support Lv 1 abilities.
Other Appearances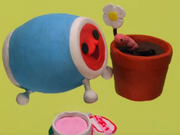 Mimizu makes an appearance in the third episode of the Taiko no Tatsujin: Clay Anime, titled I Hate Earthworms, da-don!. Right before they meet, Don-chan is getting ready to eat some delicious strawberry ice cream before Katsu can find him, hiding near Mimizu's flower pot. As Don-chan's about to dig into his dessert, Mimizu notices him and blooms a lovely flower, which Don-chan enjoys until he noticed Mimizu herself. Startled, Don-chan leaps up and accidentally smashes both the pot and the ice cream. He promptly tries to flee while Mimizu tries to make amends, as he is frightened and cannot understand what the little worm is saying. Determined, Mimizu pulls out a two-way wire phone and hands one end to Don-chan, which allows him to understand her words.
Mimizu reveals that the flower was a gift and that she wanted to become Don-chan's friend. The two apologize to each other and Don-chan brings Mimizu a new flower pot, while Mimizu gives him a new flower in return. The two happily play together while the Great Spirit reflects on the situation, awarding Don-chan three musical notes for his kindness and friendship.